The music video for The Pink Phantom  premiered on the Gorillaz YouTube channel on October 1, 2020 as Episode Seven.[1]
Synopsis
2-D, Elton John and 6lack perform a lavishly pink and emotional song inside Kong Studios during a thunderstorm. In the meantime Murdoc tries to catch the Pink Phantom with a butterfly net. After the song ends, Murdoc enters the room dressed as a matador, strumming his guitar, when suddenly one of the strings snap, much to his displeasure.
Credits
Director: Jamie Hewlett
Co-Directors:

Tim McCourt

&

Max Taylor

Producer:

Eva Dahlqvist

Production Managers: Samia Ahmed & Lisa A. Smith
Production Assistants: Laurence Moss & Skye van der Walt
Animation Supervisor/Lead Animator:

Venla Linna

Animators: Amanda Holm, Simone Cirillo, Pierre Rutz
Clean Up Artists: Paola Costigliola, Venla Linna, Amanda Holm, Francisco Magalhães, Jessica Leslau
Compositors: Deborah Ho, Max Taylor, Freddie Lewis-Walls, Vincent E Souza, Elliott Kajdan
Gorillaz are managed by Eleven Management
Production Company: The Line
Trailer
Trivia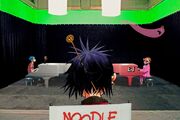 Russel and Noodle don't appear in the music video. Russel was in Atlanta, Georgia at his favorite barbecue joint.[2]While Noodle was making sure that Elton John was well watered.
The video is based on the opening credits of the 1975 comedy film, The Return of the Pink Panther.
Elton John was presented in animated form in this music video as per his personal request to Jamie, as a longtime fan of Gorillaz.
Murdoc's tiptoeing throughout the room in the video matches the rhythm of the song.
Gallery
​​​References
SONG MACHINE

Ep. 1
Ep. 2
Ep. 3
Special
Ep. 4
Ep. 5
Ep. 6
Ep. 7
Ep. 8
Ep. 9