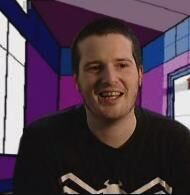 Tim Watkins is a web designer and a member of Jamie Hewlett's company, Zombie Flesh Eaters.
Role in Gorillaz
Tim Watkins was another key member of the web team behind Gorillaz.com. Probably contributed to the artistic side of the website.
Biography
Watkins was a member of Zombie Flesh Eaters, which has also worked on a variety of projects away from Gorillaz. He was also a member of Beat13, a loose art collective based in the Birmingham area, founded by his brother Matt Watkins.