The Toilets could be found on the ground floor of Kong Studios, on the same floor as Murdoc's winnebago. The toilets is also were Murdoc had slept with 2-D's ex girlfriend Paula Cracker.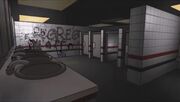 Phase One
During Phase One, in the toilets you could find spray paint, which allowed you to graffiti the wall in the toilets. You could also find other interactive characters. You could also see a man inspecting another mans rear end. You could also find the Evil Twins outside.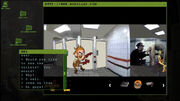 Celebrity Take Down
You could visit the toilets on the Phase One: Celebrity Take Down DVD, in the toilets you could find the 5/4 (Storyboard) and the Hey! Our Toys Have Arrived G-Bitez.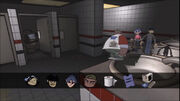 Phase Two
Along with new characters being added to Kong Studios, some were placed in the Toilets. There was now a Scary Demon who could be found in there toilets spaying "Murdoc must die" on the wall. We also see the toilets in the Gorillaz - MTV Cribs episode, with Murdoc where can see Murdoc urinating on some of his music awards. But by the time of the Phase Two: Slowboat To Hades DVD release the toilets were most likely destroyed along with other room in Kong Studios.