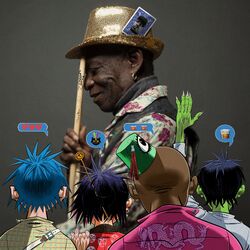 Tony Oladipo Allen (20 July 1940 – 30 April 2020) was a Nigerian drummer, composer, and songwriter who lived and worked in Paris, France. He is best known for being Fela Kuti's drummer and founding the genre of afrobeat.
Role in Gorillaz
Tony Allen was featured on the track How Far? from the deluxe edition of Song Machine, Season One: Strange Timez alongside rapper Skepta. The song was released as a tribute to Allen, since he passed away on April 30, 2020. He contributed additional drums to Gorillaz' collaboration with Snoop Dogg, Sumthin Like This Night, from Snoop's eleventh studio album Doggumentary (2011).
Musical Career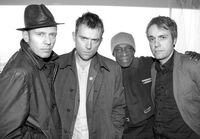 Allen was the drummer of Fela Kuti's band Africa '70 for more than 20 years and is the founder of afrobeat. He was also the drummer of The Good, the Bad & the Queen, a group that consisted of Damon Albarn and other Gorillaz contributors, Paul Simonon and Simon Tong. He was a member of the project Rocket Juice & the Moon, with Damon Albarn and Flea and performed with Africa Express. Allen was one of the primary co-founders of the genre of Afrobeat music.