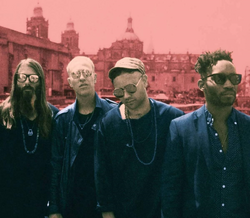 Unknown Mortal Orchestra is a New Zealand psychedelic rock band formed in Auckland in 2010. The band primarily consists of members Ruban Nielson and Jake Portrait.
Role in Gorillaz
Unknown Mortal Orchestra are featured alongside American rapper GoldLink on the track Severed Head from Gorillaz' seventh studio album Song Machine, Season One: Strange Timez. The band provided vocals and additional bells for the track.
History
Unknown Mortal Orchestra formed in Auckland, New Zealand in 2010 by Ruban Nielson and were originally revealed after claiming a mysterious single released on an anonymous Bandcamp on May 17th 2010. On June 21, 2011, the band released their critically acclaimed debut self-titled studio album via Fat Possum Record, for which the band won a Taite Music Prize and New Zealand Music Awards. The band have since released the studio albums II in 2013, Multi-Love in 2015, Sex & Food in 2018 and IC-01 Hanoi in 2018. Over the years the band collaborated with Free Nationals, Prins Thomas, Daniel Johnston and Daniel Caesar.
Trivia
Song Machine collaborator Elton John revealed to Damon Albarn on his Rocket Hour podcast that Unknown Mortal Orchestra were one of his favorite bands.
Gallery