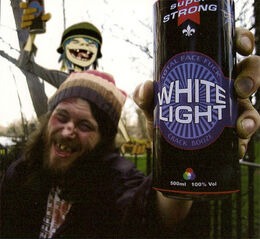 White Light is the eleventh track on Gorillaz' 2005 album, Demon Days.
Recording
Some of Russel's medication had worn off, that's why the drums sounded like that.
The guitar line was played by one of Murdoc's Mexican inmates that he brought with him after his time in jail.
Murdoc recorded the lines drunk, and slumped in a heap down by the canal.
Lyrics
White light...
White light
Alcohol, alcohol, alcohol
White light

White light
White light
White light
Alcohol, alcohol, alcohol
White light

White light
White light
White light
Alcohol, alcohol, alcohol
White light

White light
White light
White light
Alcohol, alcohol, alcohol
White light

White light
White light
White light
Alcohol, alcohol, alcohol
White light
Video