Murdoc's Winnebago (also known as Murdoc's Wagon, The Winne, Murdoc's Love Shack on Wheels, The Pay Off (or Payoff), or simply The Winnebago) was an old RV which served as not only his own personal vehicle but as his home (despite being parked inside of his own studio.)
History
At some point during late Phase 1 and between Phase 2 (early 2001), the Winnebago was stolen by Murdoc's rival, Dr. Wurzel. While the Winnebago was missing, Dr. Wurzel started a Geocities page where he would post photos of his many adventures with Murdoc's mobile home. During the doctor's possession of the Winnebago, he leaked the (at the time unreleased) first ever track by the band, "Ghost Train"; which would later be added to the G-Sides. At some point in late 2001, Murdoc (or the authorities) apprehended the crazed doctor and returned the Winnebago to its rightful home in the Kong Studios Carpark . After the incident, the dispute was settled in court and never spoken of again.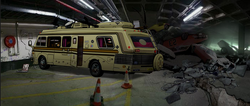 During Phase 2, the 1984 Chieftain Winnebago Motorhome continued to sit in its parking spot in the studio carpark. The Winnebago made its last major appearance during the MTV Cribs Kong Studios tour when Murdoc attempted to seduce the camera crew. The Winnebago was believed to have been left behind when the studio was abandoned.
Other Residents
The shark in Murdoc's wardrobe
Cortez, Murdoc's pet raven
Unnamed zombie house maid
A man-eating venus flytrap
Gallery
Trivia
Community content is available under
CC-BY-SA
unless otherwise noted.