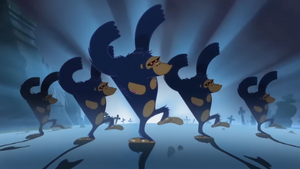 These "Zombie Gorillas" appeared in the "Clint Eastwood" music video.
They have a cameo appearance in the "Rock the House" music video, appearing as cheerleaders.
Brief
After when they rise up from the ground, they pursue Murdoc and then engage in a bizarre dance routine that is similar to the choreography of Michael Jackson's music video "Thriller".
Later on, Noodle was joyfully skipping along, almost as if she is completely unaware of her surroundings and then delivers a hard kick to one of the zombie gorillas in the face.
The gorillas all then disintegrate as soon the sunshine was exposed to them.